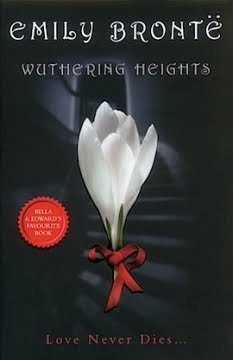 Synopsis: "Set amid the wild and stormy Yorkshire moors, Wuthering Heights, an unpolished and devastating epic of childhood playmates who grow into soul mates, is widely regarded as the most original tale of thwarted desire and heartbreak in the English language."
Summary: This book was told in a format I wasn't really expecting. The reader first meets Heathcliff, a young woman named Catherine who were are told is his dead son's wife, and another boy named Hareton. Soon an old servant/housekeeper begins to tell the tale of Heathcliff from when he was a child, up until the present. Most of the story the reader is kept in intrigue about Catherine (the elder) and Heathcliff and what has happened to them since they were children. I really enjoyed that mystery aspect of things.
As I read this book, I can honestly say this may be the only time I've ever wanted two characters to end up with one another so badly, despite my thinking that both of those characters were horrible, almost evil people. Anyone who reads this book and believes that Heathcliff is one of the best romantic characters in literature (and trust me, I've heard that), clearly doesn't remember all the abusive, cruel treatment he bestows on everyone in his path for love and revenge.
Definitely a dark, twisted sort of book, but an enjoyable read nonetheless.
Rating: I'm not going to rate this book because it isn't remotely like the other books I rate and I would feel compelled to compare it to them, which I really can't do. Know that I enjoyed the book however and would recommend it.
Other Recommended Books:
Jane Eyre by Charlotte Bronte