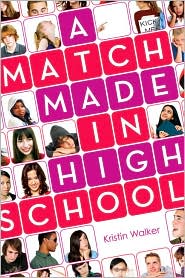 Synopsis

:
"
When a mandatory marriage education course forces Fiona to "try the knot" with super-jock Todd Harding, she's convinced life could not possibly get any worse. Until moments later, when her long-time crush is paired with her arch-enemy (otherwise known as Todd's obscenely hot, slightly sadistic girlfriend). But that's nothing compared to her best friend's fate – a year with the very shy, very goofy, very big Johnny Mercer.
A series of hilarious pranks and misunderstandings leave Fiona wondering: is there something her supposed "best friend" hasn't told her? Could there be more to Johnny Mercer than a deep voice and an awesome music collection? And perhaps most intriguing of all, is it possible that Todd Harding could actually have a heart – and a brain – beneath his pretty-boy exterior?"
Review: When I read the review of this book I had high expectations. I didn't think this would be a revolutionary plot or something of the sort, but I had heard that this book was very funny. And it certainly lived up to that expectation. The pranks and the interactions between Fiona and Todd were genuinely hilarious and didn't seem at all forced.
The rest of the book luckily, lived up to the humor. There was a lot about this book I hadn't expected. the way relationships formed between characters wasn't what I expected when I read the back cover of the book, but in a very good way. And I loved that the story which deals in large part with the fake marriage between Fiona and Todd wasn't just a mechanism to make them fall in love, as would have been the case if this book had been written by almost any other teen author. It was a device to make them fall into friendship and I think that it worked great. The grudging respect and admiration they gain for one another as they go along seemed very real to me, and I absolutely loved reading it.
Very funny novel with lots of great character interactions. I would recommend this book to anyone who enjoys light-hearted stories about teens in high school.
Rating: A-
Other books I'd recommend:
Perfect Chemistry by Simone Elkeles
Any other book by Simone Elkeles
Dash and Lily's Book of Dares- Rachel Cohn and David Levithan